Cruise Ship Welding Job
Last Updated/Verified: Apr 21, 2023
This is a long page with lots of pictures so give it time to load. All of the pictures open up if you click on them for a closer view.
Here is a real life cruise ship job I did for LCL Engineering. We added a water park to the Carnival Spirit while out at sea off of the coast of California.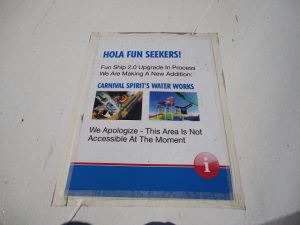 This job was 2 weeks long and I had to travel from Ft Lauderdale Florida to Los Angele California to board the ship and then the ship sailed to San Francisco to dry dock and then to San Diego to drop us off before going to Hawaii.
The hours were crazy! It was as long as you can work, keep going 24/7! You can easily get 150 a week in. Its International waters and labor laws no longer apply! These jobs are for independent contractors and are a flat hourly rate (no overtime pay) and you must have your own insurance. People flew in from all around the World to do this job. Europe, Latin America, Asia and so on.