MIG Welders and Power Supplies
Last Updated/Verified: Apr 30, 2023
Dedicated MIG Welding Machines
For most shops, garages, farms and personal fabrication projects the use a dedicated MIG welding machines is the best choice. This is because these welders do two jobs needed without any other distractions or issues. MIG welders need to do two things and they are:
Supply Power
Feed Wire or Electrode to the Joint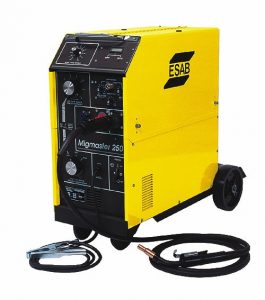 It is a single machine that holds the wire, gas and power supply in a mobile cart that allows welding anywhere that you can plug it in! These are what most people call MIG welders and what most welding supply stores sell as MIG welders. These machines also do gasless MIG welding or AKA Flux Cored Arc Welding. They are both the same machine! The down side is they are limited on power so heavy plate welding is an issue unless you switch to flux cored arc welding wire. On the other hand they are a great choice for the average metal that is MIG welded. The Machine on the above is a ESAB 250 MIGmaster Pro MIG welder.
Multi Process MIG Welding Power Supply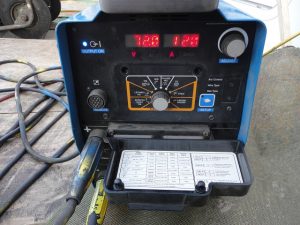 Multi process machines are the choice for most professional welders. These are nothing more than an all purpose power supply that requires additional equipment. These multi process machines come in two forms:
Multi Process All in One Welders
A General Power Supply
The machine on the above is a Miller XMT multi process welding power supply.
Multi Process All in One MIG, Stick and TIG Welders
There are two types of multi process welders:
Multi Process All in One Welders
Multi Process Welding Power Supplies
Multi Process All in One Welders
Multi process all in one welders are light duty and good for farms, small shops and homes. They can do different types of welding as long as it is not for an extended period of time (not suitable for a factory floor). They are a great choice for students, schools and in some cases shipyards. These types of machines are getting much better every year with the use of computers to regulate amperage and voltage on the welders. These welders include the wire feed system and power supply in the same case. To change processes you simply switch settings and add whatever equipment that you need. In the case of Stick or TIG welding you would simply add a stinger or TIG torch.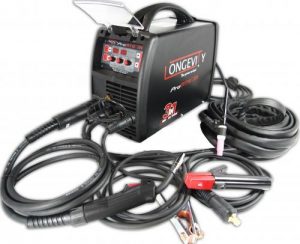 The machine the above is a 200 amp Longivity 3 in 1 (MIG, TIG and Stick) Multi Process welding power supply. The wire feed is contained inside of the case and all of the other processes just need to plug into the power source.
Multi Process MIG Welding Power Supplies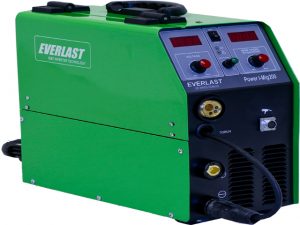 Multi Process MIG Welding Power Supplies range from just a welding power supply to a pipeline welder lifeline. These power sources are just that, power sources. They supply the power needed to weld but not the wire feeder or anything other welding equipment needed. Multi process MIG welding power supplies come in two forms:
Plug In Power
Plug in power MIG welding power supplies are the most common and only work if you have the electricity needed to run the welder. These power supplies are typically made to provide power to MIG welding equipment, Stick welding equipment and TIG welding equipment. These machines can range from light duty to some serious heavy duty welding power like the Miller PipWorx below.
Engine Driven MIG Welders
When it comes to engine driven or generator welders the engine manufacture is what you need to look at. It does not matter what brand it is but the quality of the engine that is in the machine. This is an area that most pipelines would have a say in and they are hard core Lincoln engine driven welder fans! If you have a choice between a diesel .vs. gasoline driven welder the diesel will last a lot longer and burn less fuel for the same job.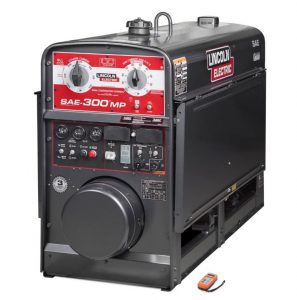 MIG Welder Voltage Type and Polarity
MIG welding is always done using D/C or direct current and the polarity used is D/C electrode (+) positive. This means that the handle of the MIG gun is the positive side of the circuit, or it may be said, the electricity flows from the metal in to the welding handle.
When it comes to dedicated MIG welders you don't need to change or worry about the polarity in any way. Now multi process welders need to be set properly. They need the proper current type, voltage type and the machine needs to be set for MIG welding. These setting vary depending on the machines manufacture settings. This is one of those areas that you just need to read the instructions.
Additional MIG Welding Equipment
Depending on the type of MIG welding power supply you have there may be a need for additional welding equipment . Some of the most commonly add on MIG welding equipment is: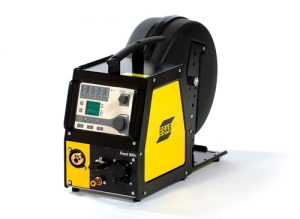 Wire Feed Systems
Spool Guns
Push Pull Wire Feeders
Water Cooler Systems
MIG Gun with Hose and Liner
Gas Regulator and Hoses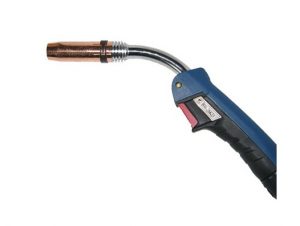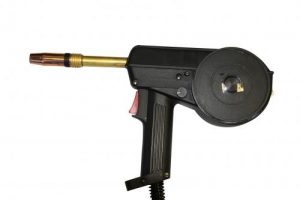 Related page: